That's all for today
Thanks for reading and commenting. The chat will continue below the line, but in case you missed it, here is Gary Naylor's report cards on the players involved in the First Test between England and Australia: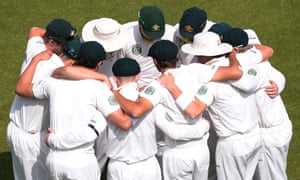 Teatime report from Richard Rae
have reached 186-3 at tea, a highly satisfactory position for the champions to have attained considering how hard they've had to work. Or at least had to work until Tim Ambrose came in when Ian Westwood plonked Samit Patel's left-arm spin straight into the stomach of Andre Adams at mid-on when he'd reached 68 off 152 balls.
Laurie Evans had been finding the going even harder, but Ambrose, busy and correct, has been positive from the start in going to 35 off just 32 balls. It helps, of course, that the ball is new old and Notts' front-line seamers are resting while Patel and Steven Mullaney use up overs until the new ball can be taken.
Evans has now gone to 50, off 131 balls – his first since having to retire in mid-innings with a broken hand after being hit by Steven Finn.
Lunchtime report from Richard Rae
It's customary - though perhaps lazy would be the more appropriate description - to describe a period of play in which not many runs are scored off a lot of overs as 'attritional'. That, however, would imply a tedious element to proceedings which has been absent this morning. While Warwickshire lunch on just 54-2, scored off 31 overs, it's been fascinating to watch, because have bowled really well and the two wickets they've picked up - Varun Chopra, caught at second slip by Samit Patel off Luke Fletcher, and William Porterfield bowled by Andre Adams, are the least the visitors deserve. Adams in particular has probed away beautifully, and could have had both Laurie Evans and Ian Westwood in the over before lunch. Rather than head directly into the pavilion at the break, the New Zealander is down on the boundary, examining a new pair of boots and chatting to the crowd.
Richard Rae sets the scene
Kalimera from Birmingham. I'm back from my annual week in Rethimnon, where the wifi is now so fast (and free) that streaming TMS is a perfectly feasible proposition.
That said, the sound of Geoffrey Boycott's inane cackling at Michael Clarke's inability to call for a review of the Stuart Broad "dismissal" ensured I quickly switched it off again.
I was back in time to watch the highlights of yesterday's play though, and be thoroughly nauseated by the lunch-time "Land of Hope and Glory", an affair that I have to admit actually took the edge off England's win for me.
No likelihood of a repeat here, hopefully, where the big event of the day may be my colleague Brian Halford - occasionally of this parish, but otherwise always of the Birmingham Mail - signing copies of his new book about Warwickshire all-rounder Percy Jeeves in the Edgbaston bookshop. Jeeves, seen by PG Wodehouse playing at Cheltenham in 1913, would almost certainly have gone on to play for England but signed up and was killed on the Somme in 1916.
Out in the middle, it's Warwickshire in sixth, buoyed by beating Middlesex at Uxbridge, against Nottinghamshire in sixth. Warwickshire have won the toss and elected to bat, which may come as something of a relief to Alex Hales, who comes in for Notts, replacing Riki Wessells who has a broken thumb. Hales can't buy a run in the long form of the game of late. Luke Fletcher comes in too, replacing the young left-arm spinner Graeme White.
Morning all
Today we have Richard Rae at Edgbaston for Warwickshire v Nottinghamshire. Enjoy the cricket.
Updated